Below is a new devotion I just left on the Cove Presbyterian Church prayer line. You can find a recording of this devotion at the end of the devotion, on the prayer line (1-304-748-7900) or on the Cove Presbyterian Podbean page.
You might also want to visit the congregational website (
covepresbyterian.org
) for more church information.

If you find this meaningful, please consider sending an offering directly to Cove Presbyterian Church, 3404 Main Street, Weirton, West Virginia or through PayPal.
John 12:44-50
Then Jesus cried aloud: "Whoever believes in me believes not in me but in him who sent me. And whoever sees me sees him who sent me. I have come as light into the world, so that everyone who believes in me should not remain in the darkness. I do not judge anyone who hears my words and does not keep them, for I came not to judge the world, but to save the world. The one who rejects me and does not receive my word has a judge; on the last day the word that I have spoken will serve as judge, for I have not spoken on my own, but the Father who sent me has himself given me a commandment about what to say and what to speak. And I know that his commandment is eternal life. What I speak, therefore, I speak just as the Father has told me."
Telephone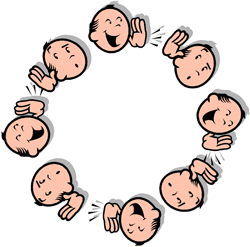 When I was a kid, there's a game I used to play called "telephone." Now, the rules of this game were very simple. One person whispers a story into the ear of the person next to them and then that person whispers it to the one next to them. And so it goes all around the room. And the last person who hears it says it aloud to the everyone else. And then the group compares what was said with the original story. Of course, the fun of the game is in how the story changes from the first to the last.
And I'll tell you, in a sense, we're really dealing with the same kind of thing when it comes to the God's Good News. You see, Jesus Christ came with the message from God, a simple message of love and grace and compassion but also one that stressed honesty and humility and accountability. Now that's the message that Christ came to share. But as people as passed his words on to others, they've become distorted by our own opinions and prejudices to the point where judgement and condemnation and damnation have replaced anything actually good in the Good News. And even for Christians, lies can be tolerated and arrogance can be justified and responsibility can be ignored. In other words, as we've played telephone with the Word of God, the truth has been compromised. And for that reason, maybe it's time that we took a step back and reread the original story so that what we say may reflect as much truth as possible.