Below is a new devotion I just left on the Cove Presbyterian Church prayer line.
You can find a recording of this devotion on the prayer line (1-304-748-7900) or on the Cove Presbyterian Church Podbean page.
If you find this devotion meaningful, please consider supporting this ministry by sending an offering to Cove Presbyterian Church, 3404 Main Street, Weirton, West Virginia or through PayPal. And no contribution is too small.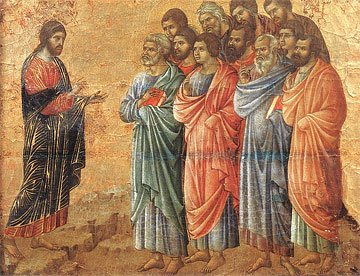 Matthew 28:16-20
Now the eleven disciples went to Galilee, to the mountain to which Jesus had directed them. When they saw him, they worshiped him; but they doubted. And Jesus came and said to them, "All authority in heaven and on earth has been given to me. When you go, make disciples of all nations, baptizing them in the name of the Father and of the Son and of the Holy Spirit, and teaching them to obey everything that I have commanded you. And remember, I am with you always, to the end of the age."
When You Go
According to the Gospel of Matthew, in his last conversation with his disciples, Jesus gives one command, not two. But that fact often gets confused in most English translations. You see, it generally reads, "Go, therefore, and make disciples." But that's not how is reads in the Greek. In the ancient Greek, "go" is not a command, rather it's written in a form that generally refers to time, "when you go." And even though that may appear to be a minor difference, I think it's pretty important. I mean, Jesus didn't feel the need to tell his followers to go back down the mountain or to go about their daily living. Instead, he knew that's exactly what they'd be doing. And he didn't want them to go to a particular place and to baptize and teach particular people. Rather, he commanded them to make disciples wherever they happened to be. In fact, this should become part of their daily living, to look for ways to bring men and women into the Christian community and to help them understand what Christ had called them to do and how God had created them to live. In other words, Jesus wanted to them bear his witness as they moved through life.
And I think that's also his command to us. Although there's nothing wrong with going to a certain place to accomplish our mission, each and every day we encounter plenty of people who could be disciples. Therefore, we should probably focus on recognizing the opportunities we already have and working on how we might most effectively share the good news, wherever we happen to go.