Below is an essay that I sent to those on the Cove Presbyterian Church e-mailing list. You can hear a podcast of this message by going to the Cove Presbyterian Podbean page.

You might also want to visit the congregational website (

covepresbyterian.org

) for more church information.
If you find this essay helpful, please consider sending an offering directly to Cove Presbyterian Church, 3404 Main Street, Weirton, West Virginia or through PayPal.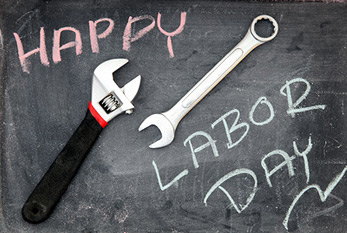 On Monday, we'll celebrate Labor Day. And even though most people have only a vague understanding about the meaning of this holiday, originally it was set aside to honor the American labor movement and to recognize all the contributions that workers have made to the strength, prosperity, and well-being of the country. Of course, over time, it's acquired some other meanings that really have very little to do with work, you know, stuff like it being the unofficial end of summer and beginning of fall or another long weekend to over shop and over spend or the last day to lounge around the pool before closing it for the winter. And at least for me, hamburgers cooked after Labor Day just doesn't taste the same.
But for many of Christians, it's probably alright that the meaning of the day has drifted a little bit, because for a lot of us, the whole idea of work and labor is a little foggy. You see, it's gets all confused the minute we began to assume that certain types of work are more spiritual and more godly than others. For instance, a minister or a missionary or an evangelist probably trumps an engineer or a lawyer or even a doctor. Now I said "probably," because if the missionary just happens to be an engineer or a lawyer or a doctor, well, that sort of spiritualizes the profession. But if the engineer works for Boeing and if the lawyer specializes in corporate law and if the doctor is in private practice, then the only way they can hope to have a genuine calling, something we use to identify spiritual work, is to also lead a Bible study or work in a church-sponsored soup kitchen or just tell people about Jesus when they're on the job. You see, while it appears that certain work is always godly, most work isn't; therefore, folks have to do something else to reach the exalted spiritual status of prophet or preacher. Now that's what some Christians certainly believe.
But, I'll tell you, it's really not reflected in our Reformed tradition. In other words, for Presbyterians, we don't see a separation between work that's secular and work that's sacred, because all work reflects the will and intention of God. And that's the reason, all work can be considered a call. As a matter of fact, in his Institutes of the Christian Faith, John Calvin offered six points tying our work to our calling. For example, first, it's important for Christians to know what they've been called to do, because that offers focus and reduces frustration. Second, because God knows we tend to drift toward frustration, he's given and equipped us to accomplish some very definite responsibilities and duties that may be identified as callings. Third, God evaluates how well Christians are accomplishing their calling by their faithfulness to the tasks they've been called and empowered to accomplish. This is often shown by a sense of harmony and satisfaction in their lives. Fourth, because Christians look to do what they've been called and equipped by God to do, they shouldn't try to pattern their lives by some other work. In other words, it's better to be a really good engineer, lawyer or doctor than a mediocre minister, missionary or evangelist. In fact, our desire to do something different from what we're called to do reflects our sin. Fifth, when Christians accept the work they've been called to do, they're able to endure problems and pain, because they're conforming their lives to God's will. And sixth, there are many different kinds of works, performed by Christians, that find favor in God's eyes. Now this is what Calvin wrote about the work we do and the labor we perform.
And I think it's something that we need to remember, especially on this long Labor Day weekend. You see, we need to get past this idea that certain work is more spiritual than others; therefore, some jobs have a high value in the sight of God while others do not. Instead, I think it's important for us to recognize that all work that enhances the community has value and the spiritual key may be to do that work to the best of our ability, using the gifts we have to accomplish what God has set out before us, something that's more than possible when we reconsider the value of all labor.