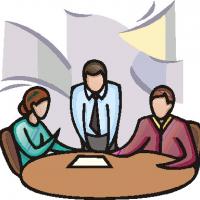 The moderator, Teaching Elder Ed Rudiger, called the meeting to order and opened the meeting with prayer. In attendance were representatives from the Session, the Board of Deacons, and the Board of Trustees.
Ed presented the role of the session, deacons, trustees, and the endowment committee within the Presbyterian system. He also talked about the following:
It's important for members of the boards to treat one another as they'd like to be treated.
Members of boards must keep discussions confidential and avoid sharing information within the congregation until it's confirmed.
All board members should be focused on serving Jesus Christ and his church. As members of this congregation, it's important for all board member to participant actively in the congregation, as shown by their involvement and financial support.
Each participant received a copy of the goals set by session for 2017. After briefly considering the specific goals, we engaged in some brainstorming. The following ideas were shared and discussed:
Consideration of Hall Rental – It was suggested that it could be based on a factor determined by utility usage.
Enhancing the Experience Around Worship – We talked about having an after-worship experience involving snacks and/or a meal.
Explore Different Fellowship Activities – We discussed the following:

Movie nights, possibly shown outside
Mother/Daughter Teas
Mother Day activities
Ice Cream Socials
Schedule monthly dinners
Schedule concerts and other performances
Activities on Main Street, in front of the church

Community Involvement – We discussed the following:

Downtown litter pick-up, possibly with the Boy Scouts
Adopting a park to clean
Form a community youth choir
Sponsor a community talent show or youth art exhibit
Board our involvement with the local theater
Because suggestions really have meaning only when they're applied, the group decided to start the following:
We'll have coffee and donuts available before and after the Sunday worship service, with different groups within the congregation taking responsibility on a monthly basis.
The meeting was adjourned after about an hour.