Below is a new devotion I just left on the Cove Presbyterian Church prayer line. You can find a recording of this devotion on the prayer line (1-304-748-7900) or on the Cove Presbyterian Church Podbean page.
You might also want to visit the congregational website (
covepresbyterian.org
) for more church information.

If you find this meaningful, please consider sending an offering directly to Cove Presbyterian Church, 3404 Main Street, Weirton, West Virginia or through PayPal.
Acts 5:27-33
When they had brought them, they had them stand before the council. The high priest questioned them, saying, "We gave you strict orders not to teach in this name, yet here you have filled Jerusalem with your teaching and you are determined to bring this man's blood on us." But Peter and the apostles answered, "We must obey God rather than any human authority. The God of our ancestors raised up Jesus, whom you had killed by hanging him on a tree. God exalted him at his right hand as Leader and Savior that he might give repentance to Israel and forgiveness of sins. And we are witnesses to these things, and so is the Holy Spirit whom God has given to those who obey him."
When they heard this, they were enraged and wanted to kill them.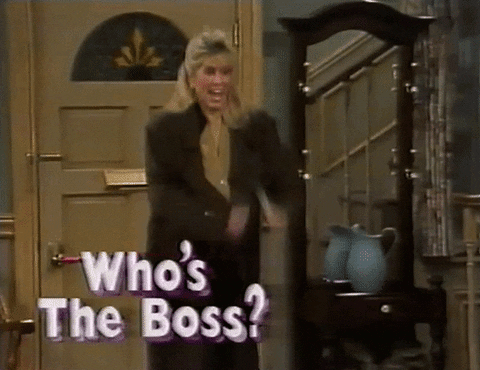 Who's the Boss
Back in the '80s there was a situation comedy entitled "Who's the Boss." It was about a retired baseball player and his daughter who's hired to be the housekeeper for high-power lawyer and her son. But of course, as situations comedies nearly always drift, the housekeeper ends up having more influence in the family than the one who's suppose to be in charge. He has a calm, commonsense that gets them through whatever problems they face. And so, as you watch the show, it's natural to wonder about who is actually the boss.
But I'll tell you, I don't think we should ever ask that question as we consider our relationship with God. I mean, even though we might be unclear about what he wants us to do and to be, I don't think the faithful should ever question his authority. As Peter said, after the council reminded him that he'd already been warned to stop talking about Jesus, "We must obey God rather than any human authority."
And this is something I think we need to remember. I mean, when those in power seem far more interested in enriching themselves rather than helping the least of these who are our brothers and sisters, we may need to stand up for Jesus Christ and his command that we love others. And we might need to do this in the face of emotional, social, economic, and even physical pressure to go with the flow. You see, if we're faced with the choice of doing something that's easy versus doing something that's right, well, I think we all know what our ultimate boss would say.